Take A Look at These 17 Unexpected Animal Friendships
We have so seen many unique friendships form between animals and humans. However, nothing is more adorable and genuine than friendships between animals. Like us, humans, it has been proven that they seek companionship as well. Perhaps they find a degree of security and comfort from each other, too.
The best bit? These friendships are not limited to animals of the same species. As you'll come to see later, we've listed down some of the most unique pairings that can be found online. From a llama and a chicken, to adorable piggies and a pup—these pairings will certainly inspire you to move out of your comfort zone because you never know who you might meet!
When a Rooster and Dog Hit the Beach
We credit this unique relationship between a rooster and dog to the fact that they live on the same farm. This is where unusual relationships often develop and this rooster and dog prove that.
Bunnies Are The Best Pillows
They are fluffy and soft to touch, so we're not surprised about this one! The rabbit doesn't really mind being used as a pillow by this dog. We're sure these two are good pals and find warmth in each other's presence.
Sisters from Another Mister
Talk about a unique pair! The unlikely relationship of Joanna the bearded dragon and DinDin the Siamese is one for the books. These two prove that no matter how big the difference, one's investments in friendship is what counts.
Shirley and Stanley Long Walks
It looks like Shirley and Stanley have going on long walks in common. Is this why they get along so well? We sure hope they arrive in time, but as most people say—you forget the hours when you're with friends!
Callie and Stewart's Selfie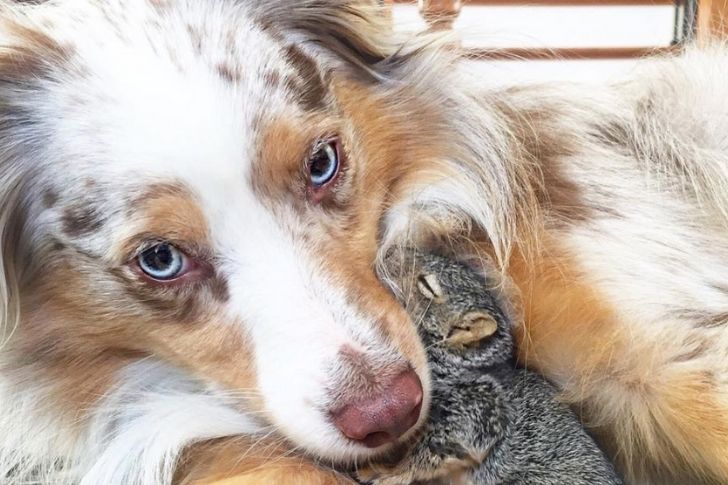 Just like all-star Hollywood celebrities, Callie and Stewart's first selfie get recognition for going viral in many social media platforms. The reason is obvious, of course! Who wouldn't want to get in there with these two cuties, after all?
Chicken Sitting on a Llama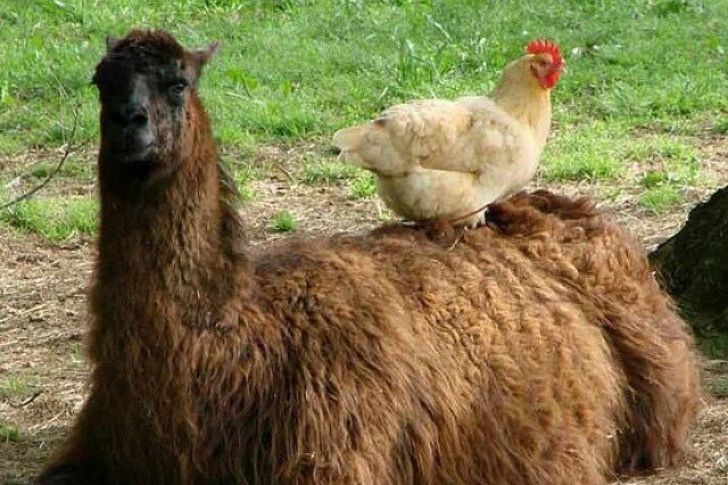 Well, that's certainly not a strange sight to see. It wouldn't be if you're already aware that these two are good friends and one sitting on top of the other is perfectly normal for them. What did we say? Any degree of difference doesn't matter. It's all about friendship… and free rides!
Loving the Sunday Snugday
Just when you thought dogs and cats cannot co-live in the same space, you see this adorable picture of them enjoying Sunday Snugday!
PopTart the Frenchie and His BFF Honey-Bun
We'd play paparazzi too if we ever encounter these two adorable munchkins. Not only do they look cute, they prove that friends willingly share the limelight with each other.
Rodents and Cats
Looks unbelievable, but this cat shares a common interest with this guinea pig. They look like the type of friends love to talk about the latest trends… including judging their owner's outfits to a certain degree!
The Pinky Pig and Its Bestie
Abby the pink piggy loves to snuggle with her canine best friend. It's obvious that these two find much comfort in each other's company!
Pitties and Chickies
Maggie Mae looks happy spending time with chicken pal Rosie Gene. How can we tell? Well, no amount of investment money can compare to the smile on her face!
The Piggy with her Boxer Besties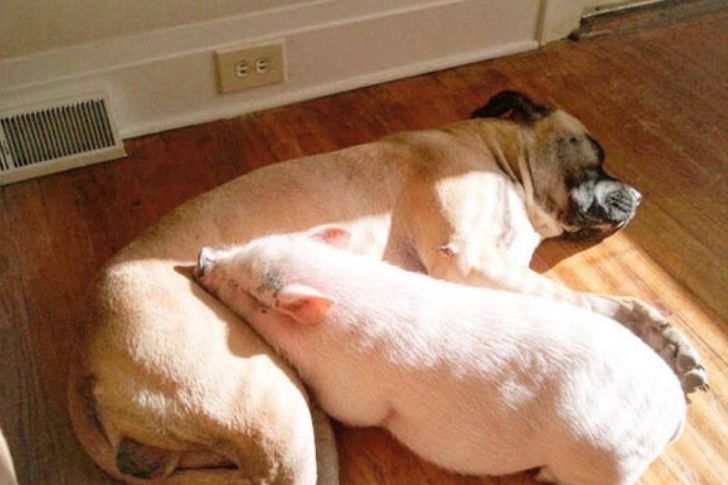 Friends always make room for each other. Just take cues from these Boxers who left enough space for their piggy bestie to squeeze in with them!
Samantha's Stolen Kisses
Whenever Samantha gets the chance, she would steal kisses from Hank. While Hank might say he doesn't enjoy it, the look on his face says otherwise!
Mixed Peanuts
No, you're not looking at a still from a new animal adventure movie. These group of friends comprised of a dog, a cat, a turtle and a prairie dog are all real. Their bond is just as genuine, too!
Sleeping on Pigs
Nothing to see here. Just a dog sleeping on his adorable piggy bestie. Did you know that pigs are known to be highly affectionate creatures? These two seem to share a love for the comfy flooring, too!
Comet's Furry Friend Cody
Just like pigs, dogs seemed to have a good bond with tortoises. Take Comet for example. He isn't afraid to show some love for his furry friend Cody.
Lucy's Adorable Smile Around Roo
While they cannot express their feelings in words, you can often see how an animal feels through their expression. Judging by Lucy's big smile, it's obvious Roo brings her much happiness!
The power of friendship transcends many things. From race to species—these animal besties prove that nothing should hinder you from making a genuine connection!