People on TikTok Are Obsessed with A Cat That Walks Like A Human
Dogs and cats are taking social media by storm. Take this cat named Rex, for example. Rex leads a unique life, having lost his front paws and most of his tail. When he was still a kitten, he fell in a water dish and his limbs became frozen. Since then, Rex has learned to move around using his back legs only. While it was challenging in the beginning, the cat has adapted remarkably to this new life.
His owners have also taken to TikTok to document his daily antics, which many adore. This skillful and adorable cat has over 117k followers to his credit at present. You can also see his videos on Instagram, too. We're sure owners of other differently-abled cats find inspiration in these posts.
Despite being differently-abled, he remains a very active cat. One of his most popular videos shows him standing up like a human, which is certainly impressive. Did you know that Rex can also walk down the stairs like a human? For a cat with no front paws, he certainly doesn't seem bothered by it at all. This takes a degree of skill to learn, but Rex proves that nothing is impossible. Not even for a cat!
The Story of Rex and His Back Legs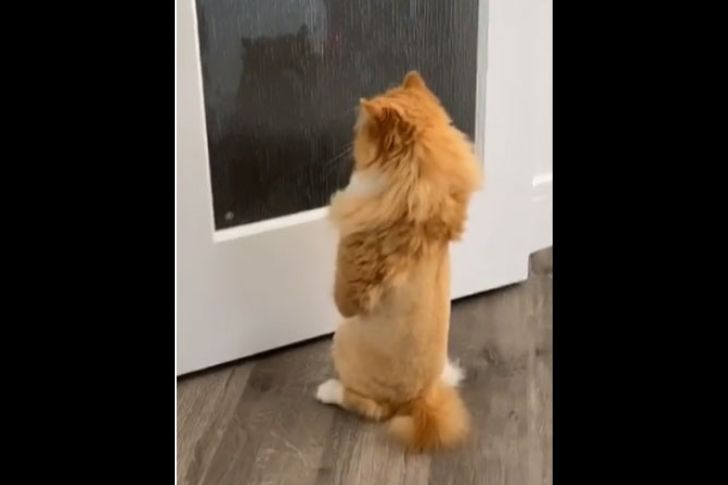 Rex and his unique way of living was a hit with many people online. Many have also expressed their admiration for Rex on social media. Who wouldn't be inspired by his story? From almost dying to living the best possible life he can, it's something even humans can learn from.
Aside from receiving love on social media, he also regularly gets gifts from his fans. At present, his videos have been watched more than two million times! That's a number that can easily compete with some of the most popular music videos online. If you ask us to choose, though, we choose Rex over popular boybands like BTS.
In a previous interview with an online media publication, Rex's owner revealed that he has been part of the family for about five years now. Rex was only six to eight months old when they first adopted him. They encountered him during a visit to a friend's farm. They thought that he was really cute despite the obvious challenge with his front paws.
They further narrated that back when Rex was still a kitten, he fell into his water dish and ended up freezing. He suffered severe frostbite and part of his paws and tail fell off. This could have ended tragically, but Rex had always been a fighter.
Not only did he survive, he didn't let the loss of his limbs get in the way. We have to credit his owners as well, because they allow him to live as fully as possible. Could his paws have been saved? Unfortunately, no. By the time they took him to a vet, they were told that it was too late. Little Rex did heal up well, though!
What Is Rex Like?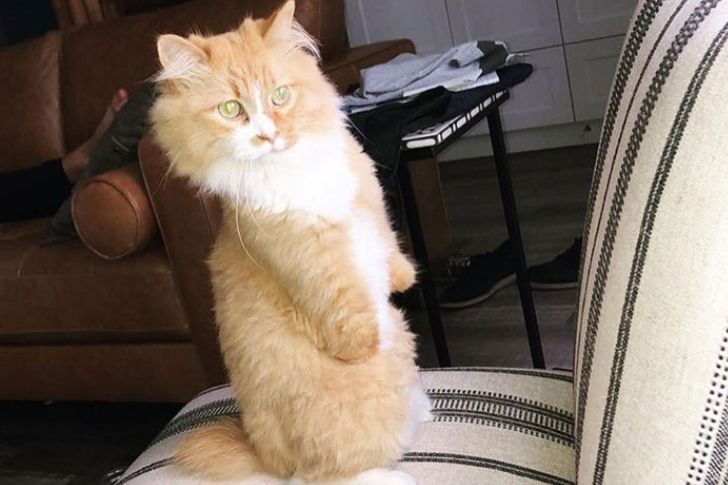 His owners told the interviewer that he is a very cuddly feline. Rex spends his time sleeping and barely does anything. They shared that he has also picked up a habit of peeing on furniture and carpets, just like many pets do!
He isn't always lazy, however. This fun-loving cat also enjoys the outdoors. Of course, he is never without his parent's supervision to make sure that he doesn't get into any accidents. As agile as he is, Rex still has certain limitations. Perhaps they should consider getting pet insurance for him?
Rex also has an adopted brother named Pancakes, and they get along really well. They are often found huddled together while sleeping. We're sure there is a degree of struggle when caring for a differently-abled pet, but judging by the smile on his owner's faces—it's easy to tell that they do everything out of love.